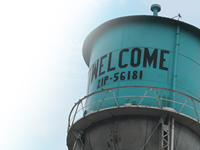 It is a very happy time for the community of Welcome, Minnesota as their corn ethanol plant is finally producing ethanol. The plant has been idle for more than a year due to VeraSun Energy's bankruptcy. The halt in bringing the plant online caused the community to feel a significant economic loss. The plant was one of seven purchased by Valero Energy this past March.
According to Valero spokesman Bill Day, the plant started grinding corn on June 30th and produced their first batch of ethanol last week. The plant will produce 100 million gallons of ethanol a year and will be operating at full capacity.
This is great news as more ethanol plants cease production and many are not operating at full capacity.
Need a little pick-me-up? Watch the news story here.