Dresser Wayne and Finnish energy company, St1, is bringing five E85 biofuel dispensers to the greater Helsinki area. These sites are eco-conscious wind and solar powered retail fuel locations.
"We want to engage our customers with an informative experience – one that also offers the reward of doing what's right for the environment. The Dresser Wayne Global Ovation iX dispenser's user-centric design and leading technology help make this possible," says Mikko Reinekari, St1 sales director.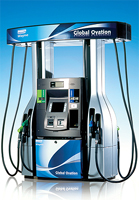 The Global Ovation iX dispenser includes many elements that support the customer service objectives including the St1 Refuel RE85 compatibility. The Global Ovation iX dispenser features the Xflo™ fuel meter, available in an eco-fuel compatible design. The Xflo meter helps ensure precisely-blended alternative fuels among other advantages.
"We applaud St1 and their efforts to offer sustaining, alternative fuels for motorists. We are pleased to be able to offer highly-accurate dispensing, vapour recovery and marketing solutions for this innovative retail fueling initiative," says Damian Tracey, President EMEA.
Dresser Wayne E85 dispensing units can also be found throughout the over 2,000 E85 fueling sites throughout the United States.