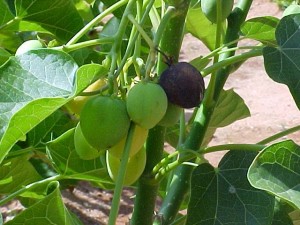 Just when ExxonMobil finally gets into the biofuels game with its announcement of $300 million in funding for Synthetic Genomics, BP quits its biodiesel efforts. BP has extracted itself from a jatropha biofuel project with D1 Oils to focus on production of ethanol in both the United States and Brazil. The company will also pursue the development of advanced  biobutanol in conjunction with DuPont.
D1 Oil has agreed to purchase BP's 50 percent interest in their joint D1-BP Fuel Crops Ltd. venture which was launched in June 2007. Jatropha has originally been considered a "wonder" crop to produce biofuels, but as of late has been under fire with many calling it the "blunder crop". It is no wonder that with tightening funding for biofuels the project was unable to find any additional investors.
According to an article today from Bloomberg News, BP spokeswoman Sheila Williams, commented, "To ensure the success of these investments, BP is concentrating new business development in these areas and will no longer be directly involved in the jatropha as a biofuel feedstock."
BP Alternative Energy has earmarked $8 billion for project investment in the decade through 2015 and $500 million for biofuels research specifically. The company forecasts that biofuels will account for 11 percent to 19 percent of the world's transport-fuel market by 2030.
In the past year, BP has partnered with several other ethanol companies including Tropical BioEnergia on a sugarcane project, Verenium on a cellulosic ethanol project and Associated British Foods and DuPont on a wheat-based ethanol plant in Hull, northeast England.