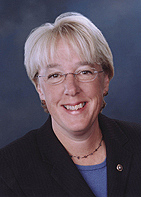 Washington State University is set to get $2 million for its algae-biofuels research, thanks to that state's senior senator.

This press release from U.S. Senator Patty Murray (D-Wash.) says she was able to use her position on the Senate Appropriations Committee to put the money in the fiscal year 2010 Energy and Water Development Appropriations bill:
"This funding will support cutting-edge research that will create jobs and continue to position Washington state as a leader in the clean energy economy," said Senator Patty Murray. "It provides a shot in the arm for Washington state biofuels research, and will help our country move toward cleaner and more efficient energy use."
The WSU Algae Biofuels project is a partnership between WSU and the Seattle-based Targeted Growth Inc. It will create high-skill jobs in both Pullman and the Puget Sound area and provide researchers with the resources they need to develop new, energy-efficient algal fuel sources. Algae is a particularly promising candidate for fuel use, as its efficiency in capturing solar energy results in higher productivity per unit area than a traditional biofuel energy crop.
The money passed the Energy and Water Appropriations Subcommittee and now goes to the full Appropriations Committee before going to the full Senate for consideration.