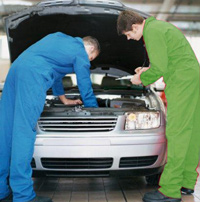 American drivers across the country have more access to biofuels than ever before. This increased availability is changing the composition of the fuels offered to drivers.  With this in mind, the Renewable Fuels Foundation (RFF) has released its updated resource on gasoline quality for auto mechanics. "Changes in Gasoline Manual IV," in its fourth update has become the most used resource on gasoline quality and its relationship to vehicle performance.
The leading author of the manual is Robert Reynolds who is the president of Downstream Alternatives. He noted, "With old requirements for oxygenates and other fuel additives gone and new mandates for renewable fuel use in place, it was clear the changing fuel landscape needed to be addressed. This manual addresses all the concerns from vapor pressures to octane ratings to drivability standards for all ethanol-blended fuels, including E85. It also focuses on the use of ethanol-blended fuels in non-automotive applications, a growing area of unnecessary concern for consumers. Simply put, ethanol fuels are safe and effective for use."
The "Changes in Gasoline Manual" focuses on changes in gasoline composition resulting from the passage of the Energy Policy Act of 2005 and the Energy Independence and Security Act of 2007. It also provides important updates in fuel quality ratings, octane ratings, ethanol fuel for non-automotive uses, and a new feature on E85 and flex-fuel vehicles designed to run on higher ethanol blends.
Click here to download your free copy.