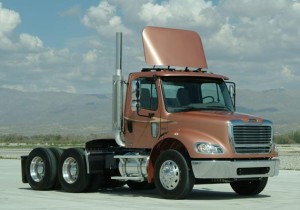 Natural gas is not just for cars and buses. Today, Freightliner Trucks introduced its first natural gas-powered truck tabbed the Freightliner Business Class® M2 112 NG. The truck was designed for use in port operations, natural gas utilities, and municipalities. The truck is powered by the Cummins Westport ISL G.
With the price of gas a continual challenge to profitability for truck companies, and companies requiring truck fleets, the natural gas technology found in the M2 112 could save an estimated $6,000 in annual fuel and operating costs per truck. While finding natural gas filling stations may be a bit of a challenge, for business in states such as California, this may not be so as they have been adding natural gas stations throughout the state for several years.
Melissa Clausen, director of product marketing for Freightliner Trucks said in press statement, "Natural gas technology has come a long way. Buses have been using it for years, but the next generation natural gas powertrains have more power because less air is needed for combustion. The technology simply burns cleaner."
The Cummins Westport ISL G, an 8.9 liter stoichiometric cooled-exhaust gas recirculation (EGR) engine, offers the lowest emissions available in the industry. Available in rating up to 320 hp, the ISL G already meets EPA 2010 standards with 85 percent lower NOx emissions than the C Gas Plus engine, and features the highest power-to-weight ratio in class with an optimized turbocharger. The ISL G also features a maintenance-free exhaust system with a three-way catalyst. No further technology or after-treatment will be required to meet 2010 emissions.
In 2009, Freightliner Trucks will also offer a CNG version of the M2 112, followed by a CNG single axle tractor, 4×2 and 6×2 truck, and vocational configurations.