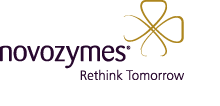 Miss the Fuel Ethanol Workshop this year? Well don't fret. You can still tap into all the information that was discussed during the conference. Novozymes is hosting a FREE webinar called, "The quest for maximizing ethanol plant yield" featuring Mitchell Marine, Associate Scientist with Novozymes.
The webinar will discuss:
– What is yield?
– Carbon balance model
– Practical model – with real figures
– Final thoughts
This 1-hour webinar will be held on Wednesday, July 8th at 1 pm Eastern Time. You can view the invitation and register by clicking here.