Two Arizona State University researchers working on biodiesel projects have been nominated for the 2009 World Technology Award, which recognizes individuals and corporations from 20 technology-related sectors.
They'll be headed to New York for the World Technology Awards gala ceremony on July 16, 2009 at the conclusion of the two-day World Technology Summit: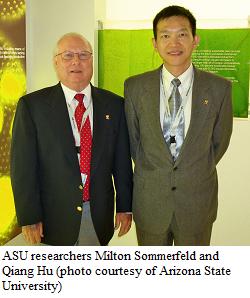 Scientists Qiang Hu and Milton Sommerfeld in the College of Technology and Innovation at ASU's Polytechnic campus, have been selected as nominees for the award for their work with algal feedstocks and biodiesel fuel. In November 2008, TIME magazine selected the researchers' work as one of the top 10 best innovations for 2008.
Nominees for the 2009 World Technology Awards were identified based on an intensive, global process over a period of many months in which current individual WTN members — primarily elected WTN Fellows from previous awards cycles who now number over 1000, spread out over 60 countries — as well as others made their nominations based on who they think is doing the innovative work in their field of the greatest likely long-term significance. After the WTN gathers further information from nominees, WTN individual member then vote on their preferences within their category. The top five selections in each category are announced from the podium on stage at the awards ceremony, and inducted into the WTN membership as Fellows. The winner receives an award on stage and makes comments about their innovative work to those assembled.
You can find more information at www.wtn.net.