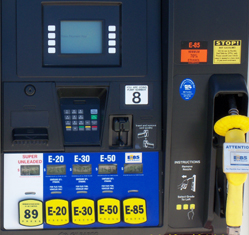 A ethanol blender pump fuel promotion was held last week at 1201 6th Street in Manning, IA that sold the domestically made fuel at a substantial discount. E20 sold for 20 cents off regular pricing, E30 was sold for 30 cents off, E50 sold for 50 cents off, and E85 sold for 85 cents off or $1.05.
"I thought the event was very successful, it was fun to see the community get involved in an ethanol promotion event. I think it's important to give consumers what they are looking for: more choices at the pump that will positively affect their pocket book but also support our local farmers," said Sara Courter, Market Development Coordinator for Growth Energy.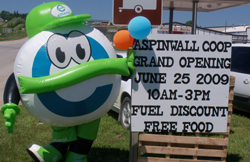 "We were very happy to assist in making the Aspinwall Co-Op Pump Promotion and Grand Opening in Manning a huge success. Growth Energy is dedicated to expanding the market and educating consumers and this is another great example of that. By giving consumers more choices at the pump with clean, green homegrown ethanol, we're not only helping decrease our dependence on foreign oil, but also boosting our local economy," noted Nicole Oliver, Communications specialist for Growth Energy.
Sponsors of the event included IA Corn Growers Association, IA Renewable Fuels Association, Growth Energy, Aspinwall Cooperative, Manning Motors, CENEX and POET. The station also offered free bratt burgers, hamburgers, and t-shirts during the promotion.