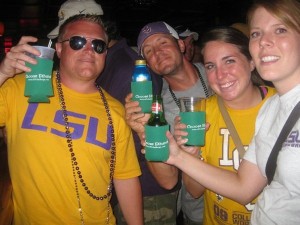 Ethanol is everywhere – even the College World Series. Each June, Omaha hosts the teams and fans who hope to go all the way. This year, fans were able to cheer in style with their "Choose Ethanol" koozies.
The Renewable Fuels Association recently launched the "Flex-Fuel Challenge" Summer Photo Contest. All you have to do is take a picture of yourself on vacation and submit it. Once all the photos are submitted, people will vote for the winner. Now, if this group of LSU fans (BTW, LSU won this year's College World Series) hasn't already submitted their photo, they should by July 31st. I might be a tad biased, but the fact they are promoting ethanol should garner them more votes!
Now in case you're not convinced that ethanol is good for America and our environment, check out the winning video from the kick-off E85 Flex-Fuel Challenge -"Funky Fresh Flex Fuel".  Groovy Man.