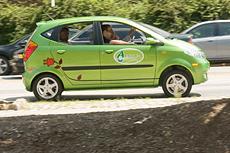 In what could be considered a paradox, an oil company has a car that won't need any non-renewable petroleum.
This article from the Gas2.0.org Web site says ExxonMobil is introducing the Maya 300, a lithium-ion battery powered car that can drive up to 120 miles on one charge… but looks and feels like a gasoline-powered car:
The Maya 300 was developed in conjunction with Electrovaya, a pioneer in the development and manufacturing of Lithium Ion SuperPolymer battery systems. The two companies have worked together to, "develop the innovative urban vehicle that will be a 'game changer' in advancing transportation alternatives." ExxonMobil actually developed the lithium-ion battery separator film and was the first company to introduce the lithium-ion battery in 1991.
The Maya 300 charges in 8-10 hours, plugs into a regular household 110 volt outlet and will be available to consumers for around $20-25,000 in 2011. To my knowledge, this will be one of the most affordable consumer electric vehicles on the market. The Tesla Sedan sells for around $50,00, the Chevy Volt is expected to retail around $30,000 and the bare-bone Toyota Prius starts at $22,000.
The article goes on to say that ExxonMobil and Electrovaya have teamed up with the Maryland Science Center in Baltimore to educate residents and visitors, including being able to rent the Maya 300 to get a real feel for how it drives.