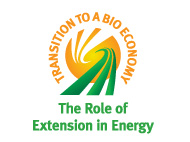 The final in a series of Farm Foundation conferences looking at agricultural issues in the modern economy will be held next week in Little Rock, Arkansas and will focus on extension services and renewable energy.
The Transition to a Bioeconomy: The Role of Extension in Energy conference will be June 30-July 1 at Little Rock's Doubletree Hotel:
The program features experts working in renewable energy, biofuels, energy efficiency and new energy technologies. Presenters include industry leaders, staff from USDA and the U.S. Department of Energy, and researchers working in energy efficiency, renewable energy and new energy technologies.
Plenary sessions will address the important role of Extension educators in providing consumers with timely information on energy-related programs and research findings. An outlook on renewable energy technologies will also be featured. In addition to plenary sessions, six workshops are planned to allow participants to focus in on specific areas of interest. Workshop topics are:
* Risk Management for Energy Investments
* Making Energy Efficiency Choices
* Energy Crop Agronomics
* Forestry
* Harvest, Storage and Logistics
* Extension and Other Delivery Methods
There still seems to be time to register for the event, but I'm not sure about availability at the Doubletree Hotel.
More information is available at this Farm Foundation Web site.