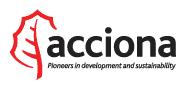 A wind farm capable of generating power for 40,000 homes has been completed near the Western Oklahoma town of Elk City.
PennEnergy.com reports that Acciona Energy North America has completed its 123 megawatt Red Hills Wind Farm… the company's first renewable energy project in the state: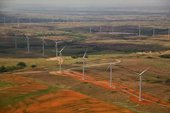 Using 82 Acciona Windpower 1.5 MW wind turbines, Red Hills Wind Farm will generate enough clean energy to power over 40,000 U.S. homes and offset approximately 294,000 tons of carbon emissions annually. The Red Hills facility is spread across 5,000 rural acres. With the exception of the small footprint made by the 82 turbines, at about 1 acre each, land use is dominated by cattle grazing which coexist with the wind energy production.
The energy generated at the Red Hills Wind Farm will be sold to Western Farmers Electric Cooperative (WFEC) in a 20 year power purchase agreement (PPA) that kicked off June 1, 2009.
Acciona Energy has more than 6,000 MW of installed wind capacity owned by the company and other companies.