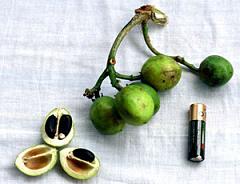 Jatropha is one of the promising non-food feedstocks for biodiesel. However, the tropical plant is not well-suited for the cooler climes of some parts of the U.S. But Biomass Magazine reports that an American company is working on a variety of jatropha that could grow in colder areas:
California-based SG Biofuels has identified several strains of cold-tolerant jatropha and has initiated a breeding program to develop them as an oil-producing crop in colder U.S. climates. The company has been working to develop several traits of the plant for the last three years, including increasing oil content, seed size and decreasing input requirements, among others. "Anything that will increase the quality of biomass," said Kirk Haney, president and CEO. The firm has collected a range of jatropha curcas from various climates and geographies around the globe and has the largest and most diverse collection in its recently launched Genetic Resource Center, Haney said, adding that the center has garnered a lot of attention.
The cold-tolerant strains were collected from various sites in Central America at elevations ranging from 1,600 meters (5,200 feet) to over 1,800 meters (about 6,000 feet). The average daily low temperature there between December and February is around 45 degrees Fahrenheit and temperatures at night fall below freezing, according to SG Biofuels. Jatropha is typically seen in climates where the average minimum temperature is 60 degrees or more.
With oil yields of 200 to 300 gallons per acre and the ability to grow in poor soils, the non-food biodiesel feedstock could soon be coming to an area a little north of the border.