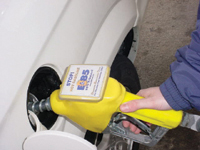 In recent weeks, the city of Sacramento has added 25 E85 fueling locations. The city is now boasting as being the nation's ethanol epicenter, at least west of the Mississippi.
California Air Resources Board Chairwoman Mary Nichols, recently unveiled the E85 fueling facility at a Valero on Madison Avenue. She said, "This is a test market for the state. We're in the early stages of the revolution. Consumers will see a lot of new fuels coming onto the market."

The clean burning alternative is selling for $.66 less per gallon than regular unleaded at the Valero. Sasha Faught of Natomas, who owns a flex-fuel Chevy Tahoe, has been using E85. "I want to be green," she said. "Let's face it, we're using up our resources. It's smart to get on with it."
The new E85 dispensers were funded mainly by a grant administered by the Sacramento Metropolitan Air Quality Management District. The grant from the California Resources Board totaled $3.5 million.
There are currently 23,000 flexible fuel vehicles registered in Sacramento that can use E85.