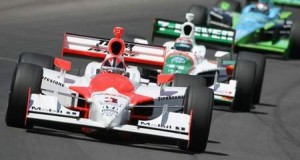 The Iowa Corn Indy 250 is racing into Newton for the third year, and in celebration the Iowa Corn Promotion Board (ICPB) is offering drivers discounted ethanol through two pump promotions. The events will offer consumers the opportunity to register for $250 worth of free ethanol and the chance to win prizes including tickets to the race and the chance to win a ride in an Indy car. The events include radio remotes and an Indy show car will be on hand.
"We want consumers to celebrate with ethanol promotions prior to the Iowa Corn Indy 250. The race will be at the Iowa Speedway on Sunday, June 21," says Shannon Textor, Iowa Corn marketing director. "We're proud that 100 percent of locally produced Iowa ethanol is used in the race. We want all consumers to recognize the advantages of using corn ethanol."
Ethanol promotions will take place at the following locations:
Friday, June 12, 2009
11:00 AM – 1:00 PM
Casey's General Store
6630 Mills Civic Parkway
West Des Moines, Iowa
Friday, June 19, 2009
11:00 AM – 1:00 PM
Prairie Gas
4300 S. 22nd Avenue E
Newton, Iowa
For more information visit www.iowacorn.org. The race is Sunday, June 21 at 12:30 PM Central Time. It will be broadcast live on ABC.