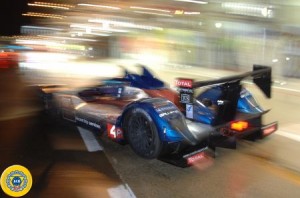 Last year, the American Le Mans Series used both E10 and cellulosic E85 as a part of its fuel mix with the exception of the 24 Hours of Le Mans. This year, the gasoline based cars will be fueled with 10 percent cellulosic ethanol. This is the first time an advanced biofuel has been used in the gasoline at the 24 Hours of Le Mans race. The race will be held in France on June 13, 3009 and the cars will be fueled with Shell V-Power race fuel.
In addition, Shell is blending another advanced biofuel, BTL (Biomass to Liquid), into its Shell V-Power Diesel race fuel. A small amount of the biofuel is used in conjunction with the established, high-performance GTL (Gas to Liquid) component.
Daniel Poissenot, Sport Vice President from Automobile Club l'Ouest (ACO), the Le Mans governing body said, "The use of advanced biofuels in both Shell V-Power gasoline and diesel race fuels at Le Mans highlights the role of the racing series in demonstrating new technologies."
The biofuel is produced at Iogen Energy Corporation's demonstration plant in Ottawa, Canada where Iogen and Shell are parters. Earlier this week, Shell announced that its stations in Ottawa will be offering consumers a 10 percent cellulosic ethanol blend for the month of June. The fuel is produced from wheat straw.
"Shell is proud to be the offical fuel supplier for the 24 Hours of Le Mans. We see motorsport as a technical test bed and we are excited about demonstrating Iogen cellulosic ethanol in our Shell V-Power gasoline race fuel this year," concluded Richard Karlsetter, Shell Global Technology Manager, Racing Fuels.