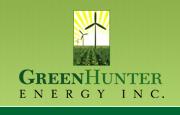 The stock in a company that seemed to be wiped out by Hurricane Ike last year has taken a dramatic jump. While Texas-based renewable energy company Greenhunter Energy Inc won't say anything about Tuesday's 62 percent surge in price, this story in the Wall Street Journal tries to clear up some of the mystery of why Greenhunter closed at $1.86:
The company, which focuses on the renewable energy sectors of wind, hydro, solar and biofuels, saw shares rise an additional 16% to $2.15 in after-hours trading.
The company said that its policy was "not to comment on unusual market activity."
Pavel Molchanov, an energy analyst with Raymond James, said the market could be reacting to speculation that the company has made progress with its credit negotiations with its primary lender, WestLB AG, a German-based commercial bank.
"Even though the company hasn't given specific updates with discussions with the lender, which are ongoing, its possible the market is anticipating a positive resolution to those discussions that would alleviate the company's liquidity crisis," said Molchanov.
The jump comes after Greenhunter's stock dropped to its lowest level… just 91 cents… last Thursday.