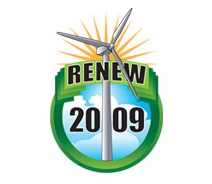 Looking for a conference that encompasses all forms of renewable energy? Then RENEW 09: Empowering the Land Conference and Expo may be the one you're looking for. The conference, being held on June 23-24, 2009 in Tucumcari, New Mexico is a "nuts and bolts" conference for anyone looking to prosper from the emerging renewable energy economy.
Renew 09 will feature major industry thought leaders, top governmental officials and landowners sharing best-practices for developing facility-scale and utility-scale renewable energy projects. This event is for anyone involved in, or wants to be involved in renewable energy including those in wind, solar, water, and biofuels. There will also be a free, two-day Renewable Energy Expo and attendees have the opportunity to tour a 1.5 MW wind turbine installed at Mesalands Community College, operated by the North American Wind Research & Training Center.
David Griscom, Clean Energy Program Manager with the Regional Development Corporation, and committee chair for programming for RENEW 09, says, "We have developed exciting programs and content for our RENEW 09 attendees that are solution-based and actionable. Our sessions and panels will discuss wind energy, solar energy, landowner associations, rural electric cooperatives, transmission, and even new geothermal technology to create electricity from hot, dry rock on the earth's crust."
If you can't be on site, all programs will be broadcast live via the internet. For registration information, visit www.EmpoweringTheLand.com.