Many drivers across the country are getting frustrated as gas prices are on the rise and oil prices have surpassed $70 a barrel. Algae production may be a good replacement for oil and today, OriginOil, Inc., announced that it has filed for a Patent Cooperation Treaty (PCT) on its technology to convert algae to renewable oil. The renewable oil could be used to replace diesel, gasoline, jet fuel, plastics, and solvents.
A challenge that has faced researchers on the culturing of microalgae has been light utilization. According to a company representative, "The invention addresses challenging problems in the culturing of microalgae, including high energy utilization, fouling of light emitting surfaces, and diurnal growth cycles." To mix metaphors, in a nutshell, this technology allows the algae to have access to the light throughout the photobioreactor, rather than just on the surface.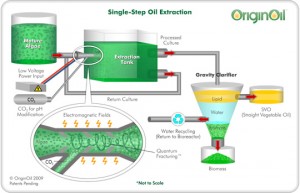 The filing describes system and methods for enhancing mass production of microalgae, involving the use of light arrays. The systems and methods are useful in applications such as energy production, fuels, foods, pharmaceuticals, plastics, and CO2 fixation.  Also described are systems and methods for lysing (rupturing) cells and extracting their components, and for producing electricity with closed-loop CO2 recycling.
Vikram Pattarkine, PhD joined the OriginOil team as the chief technology officer and oversees the company's research program. Pattarkine noted, "The pace of development at OriginOil has been extremely rapid. With this filing, we have consolidated our intellectual property protection at the international level in a number of areas of innovation at OriginOil."
Earlier this year, OriginOil announced that it had finalized a deal with the Department of Energy's National Laboratory to validate and commercialize the technology. The company has also been awarded Biofuels Digest's Top 50 award as a top company changing the face of the biofuels industry.