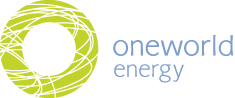 The wind and solar industry continues its rapid growth in the U.S. with the  announcement that Oneworld Energy, a company that focuses on wind and solar power installations, is expanding is presence. It will be opening an office in Melville, NY and has tapped Roger Slotkins as CEO. Melville has developed a green-tech corridor that focuses on bringing companies and employees together in the clean-tech industry. A tremendous asset to the city has been the support of Congressman Steve Israel.
Congressman Israel noted, "My goal is to see Long Island become the nation's capital for clean energy. Oneworld is an example of the companies within the alternative energy industry we are attracting to our growing green-tech corridor. These businesses are bringing new green jobs for New Yorkers while also improving our environment and decreasing our dependence on foreign oil."
Formed in 2003, Oneworld Energy is comprised of three divisions: Oneworld Solar, Green Breeze Energy (wind) and Composotech Structures (wind services).  In the States, Composotech Structures currently provides maintenance and repair services for wind turbine blades and is also developing a 200 MW wind farm in Oklahoma.
Mr. Allen, President and CEO of Oneworld, commented, "Given our desire to increase our presence in the U.S., Roger's track record within the clean-tech industry will be a perfect complement."