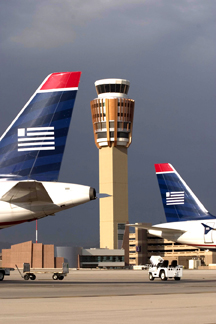 Catching a cab at Phoenix's Sky Harbor International Airport could soon be a greener proposition.
The Arizona Republic reports that the city council has voted in a new rule that will require taxis at the airport to use one of several alternative fuels:
Under the new rules taxicabs would have the choice of using compressed natural gas; liquid propane gas, or LPG; or E85 ethanol fuel…
Gasoline-powered cars – even hybrids like the Toyota Prius – won't be allowed. Although hybrids use less gasoline than regular cars, they don't meet the city's new standard for greenhouse gas emissions and oil use.
Under the old airport policy, taxis with airport permits had to be powered by compressed natural gas. Clean Energy is the only firm with CNG fuel pumps for taxis at the airport.
In practice, however, a loophole allowed the airport to make exceptions to the CNG rule. Because of this, many of the airport's 170 airport taxis are powered by gasoline.
The change could be implemented by early next year.