Thousands of people across the country defined "What is renewable to you?" when they selected the video, "Funky Fresh Flex Fuel" created by Chip McAfee from Arizona as the winner of the E85 Flex-Fuel Challenge. The contest was launched by the Renewable Fuels Association in early March to get a new generation of Americans, mainly college students, engaged in the promotion and support of ethanol. Promotion of the contest was done primarily through social media networks such as Facebook.
Submissions for the contest ended on April 3 and then peer voting took place between April 4-May 29, 2009. From there, a panel of judges selected the final winner, based on creativity, quality and relevance. McAfee won a Macbook Air computer for his winning entry.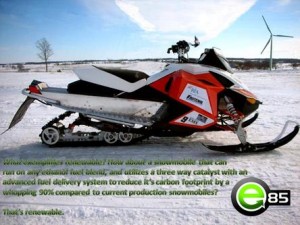 A people's choice award was also given to the entry that received the highest number of total votes through the duration of the contest. The photo submission, "University of Wisconsin-Platteville," won this award and the photographer received a Passport hard drive.
The Fuel-Flex Challenge was sponsored by the Kansas Corn Commission, the Kentucky Corn Growers Association, the United Sorghum Checkoff Program and the Renewable Fuels Association. The fun will continue this summer with the launch of a new photo contest. Stay tuned for more details.