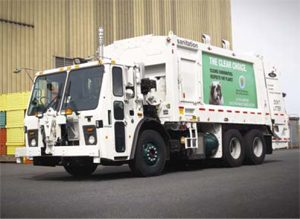 New York City is going to get a little cleaner thanks to a clean-running garbage truck.
Mack Trucks delivered its diesel-electric hybrid MACK® TerraPro™ Low Entry model refuse truck to the Big Apple. This company press release says it is the first production intent parallel diesel-electric hybrid truck in the U.S. designed specifically for Class 8 heavy-duty applications and meeting the EPA'10 emission regulations:
Regarding the truck to be evaluated in everyday operations by the city's Department of Sanitation, Mayor Michael R. Bloomberg said, "We are very proud to be the first city in the country with a Mack truck of this type. We all want clean neighborhoods, clean air, a clean environment. And clean trucks like this are essential in delivering on that promise."
The TerraPro hybrid has a rear loading refuse packer body. It is equipped with a 325 hp MACK MP7 engine and Selective Catalytic Reduction (SCR) exhaust aftertreatment technology, the approach that Mack is utilizing to meet U.S. Environmental Protection Agency's near-zero emissions standards for 2010.
The Mack diesel-electric hybrid powertrain used in the truck features an integrated starter, alternator and electric motor. The system captures energy from braking, converts the energy to electricity, stores the electricity in lithium ion batteries, and uses it to power the electric motor, which assists the MP7 diesel engine with propulsion of the truck.
Mack officials say the truck gets 30 percent better fuel economy than a conventional garbage truck while reducing greenhouse gases.