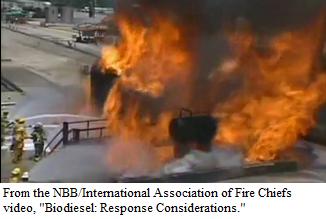 A spectacular fire over the weekend at the Minnesota Soybean Processors (MnSP) biodiesel plant in Brewster, Minnesota (no, that's not a picture of the fire on the left… that's from a NBB training video) has prompted the National Biodiesel Board to offer those in the industry and local fire officials of some tips on how to handle the rare fires at biodiesel production facilities.
This NBB press release says the board and the International Association of Fire Chiefs (IAFC) have cooperated for more than a year to prepare and distribute safety training materials:
"With a flash point of 200 degrees, biodiesel is the safest fuel to handle, store and use," said NBB CEO Joe Jobe. "MnSP is certified as a BQ-9000 producer, the industry's voluntary quality control program, so they were very well prepared to handle any safety issue."
NBB has posted the new "Biodiesel: Response Considerations" safety resource on its web site and is mailing copies to NBB producer members to work with their local fire departments. The IAFC will distribute 2700 copies to fire departments and at events, like the International Hazardous Materials Response Teams Conference held this week near Baltimore.
"The Biodiesel Response Considerations training program provides the critical information First Responders and Haz Mat Response Teams need for a safe and competent response," said Captain Steve Hergenreter of Fort Dodge, Iowa. "It includes information on the chemicals involved in production, along with information on the properties of biodiesel. Whether preplanning a facility or responding to one, understanding these chemical and physical properties ensures a response based on facts, science and circumstances."
Along with training tools, such as a PowerPoint presentation, the NBB has a video available on its YouTube channel.

Just a point that needs to be made about the fire in Minnesota: while the nearby town of Brewster was evacuated, it was only a matter of precaution, and there were no serious injuries… thanks to good planning and training like this.