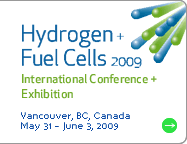 Some believe the future of renewable energy is with hydrogen. If that's true, the future… and the world… will be coming to Vancouver next week for Hydrogen + Fuel Cells 2009… billed as Canada's premier international hydrogen and fuel cell event.
Organizers say the event, which runs from May 31 – June 3, will "showcase Canada's leadership in commercialization of hydrogen and fuel cell technology:"
"Today, customers and end-users around the world are validating the benefits of hydrogen and fuel cells," said John Tak, Chair, Hydrogen + Fuel Cells 2009. "There is increasing momentum behind the commercial adoption of this technology, propelling the growth of an industry that provides high-value green jobs and a legacy of innovation."
Hydrogen and fuel cell technologies deliver significant reductions in greenhouse gas emissions, improve air quality, and ensure secure and reliable energy. Made-in-B.C. applications of these technologies in market today include forklifts, stationary power generation, fuelling, back-up power and portable products.
More than 1,000 international delegates are expected to attend Hydrogen + Fuel Cells 2009, taking place June 1-3 at the new green-designed Vancouver Convention Centre. The conference will feature international experts profiling the latest developments in research, business and government policy, with the opening keynote session featuring addresses from the governments of British Columbia.
Officials say a convoy of hydrogen-powered electric vehicles will be driving from San Diego, California and will arrive in Vancouver on June 3.
Hydrogen + Fuel Cells 2009 is jointly organized by the Canadian Hydrogen and Fuel Cell Association and the Province of British Columbia. Sponsors include Air Liquide, The Linde Group, German Fuel Cell and Hydrogen Network, Air Products, Ballard, Enbridge, AECL, BC Hydro, Canadian Nuclear Association, Daimler, GM, Hydrogenics, IMW, Plug Power, PriceWaterhouseCoopers, Iwatani, National Research Council Canada, Natural Resources Canada and BC Transit.