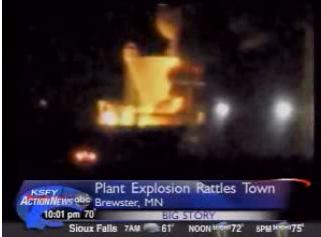 People in the Southwest Minnesota town of Brewster are back in their homes after a spectacular weekend fire at a nearby biodiesel forced their evacuation.

This story from KSFY-TV in nearby Sioux Falls, SD has more details about the Minnesota Soybean Processors Plant fire (and some pretty cool video if you click on the picture to the left):
The fire was so big that the Nobles County sheriff's officials went to each and every house asking people to leave, including one mother KSFY Action News caught up with.
"When we woke up this morning it was really really a good feeling to know that everything was safe and we could go back home again," said Bibi Spartz of Brewster.
She and her daughter Breanna were rattled by the explosion. Breanna was babysitting at the time and could hear the explosions and see the fire from a mile away.
"Actually I was pretty petrified, like I didn't know what was going to happen," said Breanna. "I didn't know where we were going to go, so it was really intense."
Deputy State Fire Marshall Investigator Steve Kellen hasn't ruled what caused the fire and says the determination of the cause will continue throughout the week but the loss for the plant is substantial.
No serious injuries were reported from the fire.