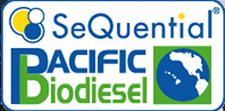 The SeQuential Pacific Biodiesel plant… the largest biodiesel plant in Oregon… is opening back up for business a month after it had laid off some of its workforce.

This story in the Salem (OR) Statesman Journal says warmer weather is helping move more biodiesel in the state:
SeQuential Pacific Biodiesel in Salem was built to produce 5.8 million gallons of biodiesel per year.
Running at full capacity proved to be impossible after the company couldn't sell enough biodiesel to continue running its plant. It had to store 250,000 gallons for weeks in early spring until it could find new customers and increase sales to existing customers.
But now, its customers are buying fuel blends that have a higher biodiesel content — blends that sometimes gel in cold weather. The city of Portland's water bureau fleet, for example, moved from a 20 percent biodiesel blend to a 99 percent biodiesel blend April 15.
"That helped dig our inventory down," said plant manager Tyson Keever, enough so that last week six people laid off at the end of March were hired back.
The article goes on to say that the closure of the Imperium Renewables biodiesel plant, in nearby Hoquiam, Washington has helped eliminate some of SeQuential's competition. The Salem refinery will be running at about half capacity.