Two new families of ethanol production systems, or "mini-refineries" are being offered today from Allard Research and Development LLC, a company specializing in small to medium sized ethanol systems.  These systems are available in either a fully automated (EFS) or manual process technology (MES) and are designed for use in business, municipalities, agriculture, and commercial markets.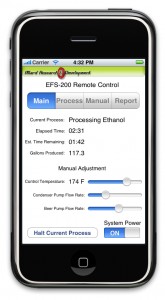 In a company statement, Adam Allard, President of Allard Research and Development said, "Today's product launch gives our customers a wide range of Ethanol Fuel Systems that will meet their varying output capacity demands. Our forte is the ability to turn ideas into workable products, not only in a short period of time, but cost effectively. With this new line, our customers can make their business ideas become reality."
The automated Ethanol Fuel Systems are computer touch screen-controlled and feature a UNIX-based operating system on the primary automation computer. The Manual Ethanol Systems  utilize the same components, including the touch screen-controls, but without full automation.
The EFS and MES machines are offered in 100, 200, 500, and 1000 product models representing output gallons per day capacities. If you are looking for more ethanol output per day, the machines with larger output capacities can be custom engineered and manufactured.