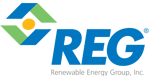 Iowa-based Renewable Energy Group Inc. has signed a deal with three Midwest biodiesel plants to consolidate under the REG name.
Biodiesel Magazine reports that Western Iowa Energy with a 30 MGY refinery in Wall Lake, Iowa; Central Iowa Energy's 30 MGY Newton, Iowa facility; and the Danville, Illinois Blackhawk Biofuels, LLC, a 45 MGY facility in Danville, Ill., are part of the deal:
Ownership of the operations of all four companies will be consolidated in a new holding company to be named Renewable Energy Group, Inc. The consolidated company will be owned by the current members of the three acquired companies and current Renewable Energy Group (REG) investors, including Bunge North America, ED&F Man, Natural Gas Partners, NGP Energy Technology Partners, US Renewables Group (USRG) and West Central Cooperative. The transaction is subject to approvals by the shareholders of all four companies and to other conditions, including customary regulatory approvals.
REG's chairman and chief executive officer Jeff Stroburg cited demand by major petroleum distributors and oil refiners as a key factor in the decision to move forward with plant consolidation. "As the Renewable Fuels Standard (RFS) takes effect and our nation moves toward energy reform, the distillate market is demanding technical expertise, dependable supply, more efficient distribution and creative pricing options from major biodiesel partners," Stroburg said. Under the 2007 Energy Independence and Security Act, the RFS calls for 500 million gallons of domestic biodiesel consumption ramping up to 1 billion biodiesel gallons in 2012.
REG management believes the consolidation will help the company by bringing greater economies of scale in biodiesel production.