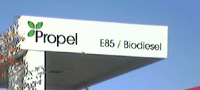 Propel Fuels and Enterprise Rent-A-Car will partner to educate on Enterprise's FFV fleet in Sacramento, Calif. Twelve Sacramento Enterprise locations will participate in the program to begin in a few months.

"We really applaud Enterprise for their commitment to E85 and their commitment to flex fuel vehicles," said Rob Elam, president of Propel Fuels. "We think that – especially in states like California – that kind of leadership from business is very much appreciated by both the public as well as policy decision makers at the state level."
The collaboration will include supplying Enterprise's customers with information on E85 and provide a listing of Propel Fuels' E85 locations. Propel Fuels recently established five "Clean Fuel Points" or, small modular fuel dispensers, in and around the Sacramento area.
Elam stated, "[The station owners] don't need to put any money upfront to deploy any sort of infrastructure, they don't have to manage the fuel procurement, they don't have to do any of the customer outreach, and they also don't have to do any of the credit card integration." He also noted that the Enterprise partnership could expand as more Clean Fuel Points come about in additional areas of the state.