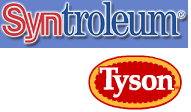 A refinery in Louisiana slated to turn chicken fat, along with beef tallow, pork lard and other greases, into high-quality biodiesel and jet fuel by next year.
This story in the Arkansas Democrat Gazette says the Dynamic Fuels LLC refining plant in Geismar, La., a partnership between Tyson Foods and Syntroleum Corp., is on time and on budget:
Bob Ames, who oversees Tyson Foods' Renewable Energy group, said construction on the Louisiana plant remains on budget.
Equipment for the plant has been ordered and is scheduled for delivery by the second and third quarters. Staffing is expected to start this summer.
"The plant should be mechanically complete at the end of this year," Ames said. A six-month trial period to pinpoint problems and make adjustments to the process will precede the official start of operations, he said.
Jeffrey Bigger, director of the Dynamic Fuels LLC management committee, said in October that the plant is the first such fuel production facility in the United States.
When construction on the Dynamic Fuels plant is done, the refinery will crank out 75 million gallons of biodiesel per year. It will employ 45 people and have an annual payroll of more than $4 million.