Earth Day 2009 may have come and gone but organizations doing great things for the environment happens all year long. The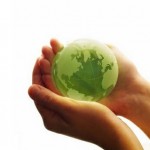 organization "Great Nonprofits" wants you to vote for their Green Choice Awards which honors local nonprofit environmental organizations that are doing great things in your neighborhood, community or the world.
The environmental organization (entrees must be for nonprofit associations) that receives the most positive reviews will not only win a Green Choice Award but will also receive national media coverage. People who submit reviews are eligible to win prizes including an autographed copy of Hot, Flat and Crowded by Thomas Friedman, a getaway to Joi De Vivre hotels, gift certificates to Whole Foods, coupons for Ben & Jerry's ice cream, and much more.
So rev up your computer and warm up your fingers and start pecking away. Entrees are due by April 29, 2009.