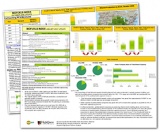 The ethanol industry received some negative news today compliments of the newly released Soyatech Biofuels Monitor, a publication from HighQuest Partners. The study projects that for First Quarter 2009 the U.S. ethanol industry will operate at 67 percent of nameplate capacity through 2010. The study authors, in part, based their predications on data from the USDA Planting Intentions report that was released on March 29, 2009 that estimates the corn crop in 2010 will remain stagnet around 12.15 billion bushels or approximately 85 million acres of corn.
According to an article from Biofuels Journal, "At that level, given current corn demand estimates for food, feed and exports, there would be only 3.4 billion bushels of corn available from the 2009 corn crop for the 2010 production of ethanol, or enough to produce approximately 9.6 billion gallons."
Hunt Stookey, co-author of the study and managing director of HighQuest Partners was quoted in the article as saying, "This is against forecast industry nameplate capacity of 14.4 billion gallons by the beginning of 2010 and an RFS mandate of 12.0 billion gallons."
Pundents have criticized the ethanol industry for taking a growing share of the corn market but according to Stookey, "The ethanol industry is benefiting from the current economic crisis which has reduced demand for livestock, dairy and poultry, thereby reducing competing demands for corn." Typically, when there is a shortage of corn, the ethanol industry absorbs the loss.
When the industry will see a turn-around is unknown but the study predicts this should occur at some point during 2010.