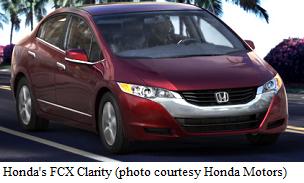 All you'll see coming out of its tailpipe is clean water vapor. It's no wonder that Honda's hydrogen-powered FCX Clarity picked up World Green Car of the Year honors at the recent New York Auto Show.
This story from EcoGeek.org says it beat out 22 other competitors for the title:
The judges credited the FCX Clarity for advancing hydrogen fuel-cell technology to the closest it's been to mainstream success yet, but also stated that governments need to do more to create infrastructure that will allow cars like the FCX Clarity to really take off.
The FCX Clarity is still only in limited release in California, but, as announced at the NY Auto Show, runner-up [Mitsubishi] iMiEV will definitely be released in the U.S. sometime "before 2012."
To be in this competition, a vehicle had to either be in full production or as a prototype with limited release. Emissions, fuel efficiency and use of technology were all factors in deciding the winner.