The Ethanol Across America education campaign has announced its support of the National Flexible Fuel Vehicle (FFV) Awareness Project in cooperation with the FlexFuel Vehicle Club of America. The FlexFuel Vehicle Club was founded to build a national support base of FFV owners and other related stakeholders. The goal of the project is to accelerate and support existing consumer education efforts to increase ethanol demand through the sale of high level blends of ethanol to meet the nation's renewable fuel standard.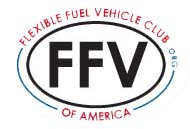 "Consumers are becoming more aware of the impact of their energy usage on the environment. Consumers have the choice to turn off a light, change a bulb, or even buy green energy (e.g., wind, solar, hydro) from their local utility. However, the vast majority of consumers still do not have the choice of what fuel to put in their cars unless they are one of the 7 million owners of FFVs. We are launching this national FFV awareness campaign so more consumers will begin to use their power of choice and purchase higher than 10% blends of ethanol," said Burl Haigwood, President of the FlexFuel Vehicle Club.
By teaming with the Clean Fuels Foundation and the Ethanol Across America program, project coordinators say they will be able to reach a wide audience through announcements about the project on the Ethanol Across America's Ethanol Minute radio show. The first phase of the FFV Club's efforts will concentrate on reaching out to Governors and Energy Offices in states with biofuel programs and/or E85 stations. They have the opportunity to identify and contact the FFV owners in cooperation with their state department of motor vehicles and state inspection stations.
The FlexFuel Vehicle Club's awareness program will try to decal all makes and models of FFVs. FFV decal branding will compliment similar efforts to brand fuel ethanol and E85 at the retail gasoline dispenser. The national FFV awareness project will focus on increasing the utilization of E85 after the retail station has opened. The program will expand the stakeholder community from just fuel providers to include the automobile dealership network and other community stakeholders (e.g., civic, faith, and environmental organizations) to increase FFV and E85 awareness to the public.
"True energy independence is about the freedom of consumer choice. FFVs, ethanol, E85 and the nation's renewable fuel standard have put consumers back in the driver's seat, and we plan to mobilize this American asset," said Haigwood.