It's getting closer to that time of year when families across the country will pack up the kids, the dog and a couple of weeks of clothing and head out across the great expanse of America on a Griswold-family style summer vacation (Sorry folks, park's closed. Moose out front shoulda told ya. — cracks me up every time!).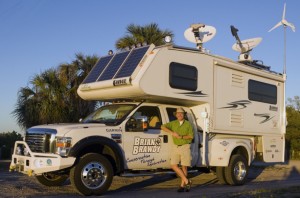 But one man isn't waiting until summer to get his adventure going. In fact, in the past year, Brian Brawdy has driven more than 60,000 miles in his biodiesel, wind and solar powered RV throughout the lower 48. This story from the Chicago Tribune and Sun-Times says his journey is to prove that you can explore while you conserve:
Brawdy's home on wheels consists of a 2008 Ford F-350 Super Duty 4×4 topped off with a Lance 1181 Camper. The interior is straight up bachelor pad, with a TV, a few beers in the fridge and a disheveled bed.
This "mobile base camp," as he calls it, let's him travel North America's highways and byways while spreading the word about environmental conservation.
Huh, you say? Gas-guzzling RVs aren't exactly the poster child of the green movement.
Brawdy wants to show that it's possible to RV in an environmentally sensitive way. He customized his rig with half a dozen rooftop solar panels that, along with a wind turbine, generate enough electricity to power his air conditioner, kitchen gadgets, computer and other equipment he uses to document his journey on his Web site, brianbrawdy.com…
He originally hoped to run the RV on used vegetable oil from restaurants, but Ford's warranty on the truck's engine said that was a no-no. So he settled on biodiesel fuel instead.
Brawdy says one of the biggest challenges of the trip has been finding clean-burning biodiesel to burn in his truck (maybe he could use the National Biodiesel Board's Web site for where to buy the green fuel). But for the former cop, he'd probably find a way to turn the drive to a local gas station into another adventure. At least he won't have to worry about leaving the dog tied to the bumper.