Eos Estate Winery, based in the California Central Coast wine country, is one of the first energy-sustainable wine brands in the U.S. The winery has successfully adopted a "trifecta of solar energy solutions" to meet its energy needs. Eos Estate Winery utilizes three solar energy systems that include a 504 kWp photovoltaic (PV) tracking system which spans two acres, a 36 kWp, 204-panel fixed-tilt PV system to power the winery's popular visitor center and a 100-panel roof-mounted solar thermal system that provides the winery's heating needs. The solar panels were all provided by Hamburg, Germany based Conergy, which also has U.S. offices in Dever, Colorado.
In a statement released today, Jeff Hopmayer, the owner of Eos Estates Winery commented about his decision to incorporate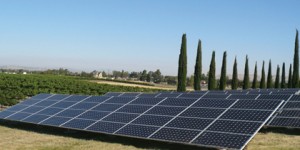 solar energy into his business. "Our primary motivator was to produce wines in a way that honors this beautiful coastal area and respects the environment. Conergy's solutions enable Eos to optimize power generation throughout the day, avoiding the hours of shading confronted by standard systems set to peak hour production," he noted. "These efficiencies — coupled with the government incentives associated with this project — made the economics of installing these remarkable earth-friendly systems viable," Hopmayer said.
The winery's environmental return on this project is expected to be substantial. According to Conergy, Eos's solar initiatives will reduce CO2 emissions by over 21,000 tons – the equivalent of eliminating 68 million car miles from California's freeways. The high return on investment is achieved in part by Conergy's tracking system that is designed to maximize the winery's daily solar energy harvest by following the sun's trajectory from east to west. This type of system delivers up to 15% more energy than traditional fixed-mount solar technologies.
According to Conergy's Project Developer Micheal DeSousa, "The rebates, tax incentives, accelerated depreciation, environmental benefits and brand cache that go with pursuing clean energy solutions in today's marketplace have never been more appealing."