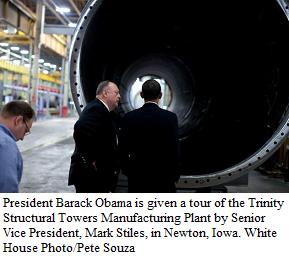 President Barack Obama was in Iowa for this Earth Day, visiting a former appliance maker that has converted to make parts for the state's burgeoning wind energy industry.
The Des Moines (IA) Register reports that the president also used the stop at the Trinity Structural Towers in Newton, formerly a Maytag appliance factory, to unveil plans to allow off-shore wind-energy production:
"On this Earth Day, it is time for us to lay a new foundation for economic growth by beginning a new era of energy exploration in America," Obama said during a stop at a plant that produces towers for wind-electric turbines.
Making his first trip to Iowa as president, Obama urged Congress to pass a bill this year that puts the nation on a path to reducing its carbon pollution by 80 percent by 2050.
Obama has proposed establishing a cap-and-trade system, where businesses would be granted a fixed number of credits for their emissions. Companies that use more than their share would pay more.
The plan includes reducing the number of credits over time.
It also includes spending $15 billion a year for 10 years to develop sectors of the renewable energy industry through research and development, job training and infrastructure.
The House Energy and Commerce Committee began discussing an energy bill Tuesday and is expected to vote on legislation next month.
"Today I am announcing that my administration is taking another historic step. Through the Department of Interior, we are establishing a program to authorize ­ for the first time ­ the leasing of federal waters for projects to generate electricity from wind as well as from ocean currents and other renewable sources," Obama said to about 200 in at Trinity Structural Towers in Newton.
"It's a win-win. It's good for the environment. It's great for the economy," he said.
The move is seen as a boon to the Iowa plant that currently employs 90 full-time workers with another 40 to be added this coming fall… and maybe more, depending on how successful this initiative is.
Iowa is second in the nation in wind energy production behind only Texas.