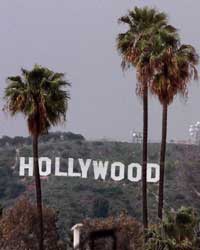 Sure, they might not be cast opposite stunning starlets such as Angelina Jolie or call for their closeup after jumping off a 30-story building in a spectacular stunt, but renewable energy sources, especially biodiesel and solar, are playing a starring role in Hollywood these days.
Even the entertainment magazine Variety recognized the renewables' walk out on the red carpet of green living:
" 'Green' business is good business," according to Warner Bros. chairman and CEO Barry Meyer, who maintains that the studio's green initiatives "are not only good for the environment, but they are beneficial to our bottom line."
The studio said it saves about $1.3 million annually from energy conservation measures adopted in recent years.
Warner finished construction earlier this year on a "green" soundstage and has installed a 500-kilowatt solar electrical system with more than 2,700 solar panels. It is the largest in the industry, as well as in the city of Burbank, according to Warner Bros.
NBC Universal introduced its "Green Is Universal" campaign several years ago. Beth Colleton, veep of the initiative for the conglom, said is an attempt to "green the way we do business 365 days a year."
According to the studio, the use of biodiesel fuel on the upcoming Focus Features pic "Away We Go" resulted in a reduction of harmful carbon emissions.
Even Hollywood staple William Morris Agency has invested in 15 hybrid vehicles for its fleet. Let's just hope they don't want an agent's cut. But, then, maybe they could get a percent of biodiesel or ethanol… just like we do in our vehicles' fuels!.