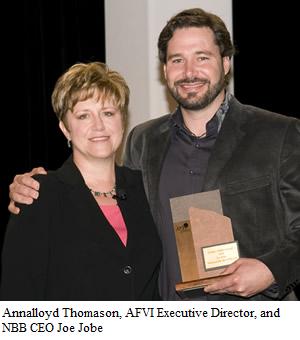 While my friend Michelle mentioned the National Biodiesel Board's CEO Joe Jobe winning the Alternative Fuel Vehicle Institute's Golden Bullet Award during the group's conference and expo going on in Orlando, Florida, I wanted to pass along this picture of Joe picking up the honor and what the NBB had to say about it:
"Biodiesel is just one key part of the solution to reduce our nation's dependence on foreign oil, preserve our natural resources, reduce harmful greenhouse gas emissions and provide sustainable energy," said Jobe. "I am honored to be recognized, but thank the members of the biodiesel community, who are dedicated and persevering when it comes to ensuring America can produce its own fuel."
The Alternative Fuel Vehicle Institute recognizes outstanding leadership in the alternative fuels and vehicles industry. The Golden Bullet was among awards presented at the 15th national Alternative Fuels & Vehicles Conference and Expo 2009 in Orlando to honor leaders and organizations that further advanced technologies resulting in clean alternatives to petroleum.
"Joe Jobe's leadership has been a tour de force unifier behind the national effort to bring the biodiesel industry together and advance the use of biodiesel in our nation's fleets," said Alternative Fuel Vehicle Institute's Director of Education and Business Programs, Kimberly Taylor. "A rising tide lifts all boats, and biodiesel's successful growth has a ripple effect in demonstrating that alternative fuels can power the nation."
The release goes on to point out just how rapidly the popularity of biodiesel has grown over the past decade with production jumping from just 500,000 gallons nationwide 10 years ago to 7 million gallons last year. Pretty impressive! It's no wonder our friends at the AFVI chose to honor Joe and the entire NBB. Congratulations!