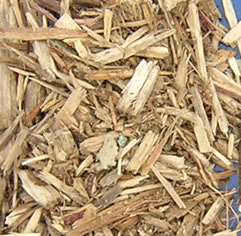 The police department in Hoover, Alabama will soon be receiving wood-based ethanol to fuel their flexible fuel vehicles (FFVs). A Livingston demonstration plant, Gulf Coast Energy, will be producing the ethanol.
About 100 gallons of wood produced E85 will be delivered to the police department, "We wanted to get there and show everybody we can do this in this country," said Mark Warner, the chief executive of Gulf Coast Energy, the plant operator. He also said that this is the first time municipal wood waste has been transformed into a liquid fuel.

Gulf Coast Energy, Inc. was founded with the intention and mission to "change the world," through the manufacturing of alternative, environmentally friendly, renewable biofuels. The company states that they developed a unique approach to the manufacture of alternative fuels that takes advantage of the latest state-of-the-art modular process technology for converting biomass to ethanol and other carbon-based fuels such as diesel and possibly gasoline among others.