As the third day of the 15th national AF&V Conference and Expo in Orlando moves in, industry excellence awards were announced. Alternative Fuel Vehicle Institute (AFVI) recognized outstanding leadership in the alternative fuels and vehicles industry. The awardees shown superiority in advancing the use of alternative fuels, vehicles and advanced technologies thus furthering a clean air initiative.
According to a press release from AFVI, eight awards were announced:
The 20/20 Vision Award which acknowledged cooperative leadership, strength of purpose, and a powerful vision went to Mario Cordero, immediate Past President of the Port of Long Beach, CA, and S. David Freeman, President, of the Port of Los Angeles Board of Harbor Commissioners. Under their plan, the fifth largest seaport complex in the world is now working with drayage truck owners to replace old trucks that can cut truck related air pollution by 80% by 2012.
The Golden Bullet Award went to Joe Jobe who brought together a national effort to bring the biodiesel industry together to advance the use of biodiesel in our nation's fleets.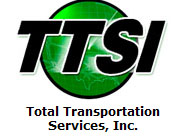 The Green Fleet Award went to Victor La Rosa, President of Total Transportation Services, Inc. (TTSI), was the first in line with alternative fuel vehicles (AFVs) to operate in full-time drayage service at the Ports of Long Beach and Los Angeles.
The Invention and Innovation Award (Heavy-Duty) was given Michael Gallagher, president and COO for Bechtel Group and Fluor Corporation. Dr. Gallagher showed commitment to the development of alternative energy and environmental cleanup by working tirelessly with customers, industry partners and policy makers on natural gas.
The Invention and Innovation Award (Light-Duty) was presented to Toyota Prius as it changed the makeup of the world's fleet of vehicles. In an evolving new vehicle market, Toyota has set the bar for eco-supremacy.
The Oxygen Award was given to Blue Bird VISION. The Vision is the first full-size, dedicated propane-powered school bus to be offered by a major manufacturer in the United States since 2002.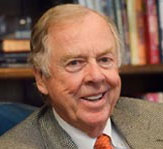 The Green Giant Award went to T. Boone Pickens (right) who has pushed national attention on natural gas for transportation as a key tenet in lessening U.S. dependence on foreign oil.
The Prescient Pioneer Award was presented to Mike Scarpino of the U.S. Department of Energy's Clean Cities Program. For twelve years Mike has been on hand to assist the national program and local coalitions as they've weathered budget threats, low gasoline prices, and erratic incentives.
The AF&V Conference concludes tomorrow.