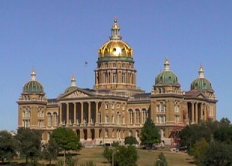 State senators in Iowa have passed a standard that would require all diesel fuel sold in the state contain 5 percent biodiesel. The measure still needs to clear the State House and gain the governor's signature to become law. If it does, the Hawkeye State would become the eighth state in the nation to have a biodiesel requirement, joining Minnesota, Washington, Oregon, Pennsylvania, Louisiana, New Mexico and Massachusetts, which all have biodiesel mandates.
The news was welcomed by the National Biodiesel Board:

"Iowa has been a leader in the helping to establish biodiesel as a reliable and renewable energy alternative," said Joe Jobe, National Biodiesel Board CEO. "Biodiesel gives all Iowans an opportunity to use a renewable fuel made for, grown by, refined by, and distributed by Iowans. This is empowering the citizens of the state to choose to use less foreign oil."
Officials say Iowa's biodiesel requirement will drive demand for 45 million gallons of the green fuel in the state, as well as generating jobs in the local production of the feedstock, primarily soybeans in Iowa, and the biodiesel.