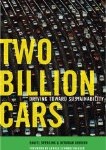 As we head into the weekend, some of you may be planning a trip to an auto mile to buy a new car. When you drive away in your new vehicle, you'll be helping the world get one car closer to the two billion mark. Today there are one billion cars on the road and within the next 20 years, there will be two billion cars on the road. And this is the premise of this week's book, "Two Billion Cars" written by Daniel Sperling and Deborah Gordon.
"Two Billion Cars" details America's love affair with cars, the rise and fall of the American auto industry and the rise of foreign auto makers, and discusses how the world will survive the environmental impact of two billion cars. According to the authors, "Cars are arguably one of the greatest man-made threats to human society."  Using past and current California legislation as a guide and current and future technologies, the authors make suggestions on how the world can develop a sustainable transportation industry through "eco-cars".
Today the typical American household, which owns and drives two cars, is spending over $15,000 per year (and this number was calculated before last summer's very high gas prices). "…cars are multiplying faster than people in America and almost everywhere else. In the United States, the increase is vehicle registration has outpaced U.S. population growth by more than 50 percent since 1970." Houston, we have a problem. 
The authors, like many others, realize that there is no one solution, no holy grail fuel, technology or legislation. It will take change in multiple areas and very importantly, a change in people's behavior. Here are some of their suggestions and although they are not all unique, they are coupled together to create a very unique and achievable plan for change.
The two main tools for transformational change are: incentives and regulations, research and development and technology transfer. Each tool is carried out in three transformation categories: energy efficient vehicles, low-carbon fuels (California has a low-carbon fuel standard that many other states are considering adopting) and green consumer and government behavior. Their plan, the authors write, "advances a new approach, one that engenders individual and corporate accountability, promotes innovation, balances private and public interest, and endures over the long run."  This is a book for all people who want to ensure that the world continues to drive toward sustainability.
To buy this book or any book I review, click here.