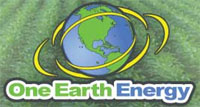 As so many ethanol plants have closed in recent months, invester-owned ethanol start-up One Earth Energy LLC is planning to begin production on June 11, 2009. The 100 million gallon plant is located near Gibson City, Illinois.
One Earth Energy, LLC officially organized as an Illinois based Limited Liability Company in November 2005. By acquiring ethanol mills on the cheap, big oil and other players could undercut firms such as One Earth Energy, which spent $166 million to build a plant for distilling corn into fuel.
"The challenge to compete with those new ownerships is they have a lower cost of production because they have less debt," said Steve Kelly, president of One Earth Energy. Heavy debt loads and historically high corn prices have been lethal to independent ethanol firms.
According to the Los Angeles Times, before launching One Earth Energy, Steve Kelly worked down the road for the Alliance Grain Co. He estimates that the co-op stored about 3 million bushels of corn when he joined it in 1988. The figure reached almost 30 million bushels in 2005, so Alliance needed an outlet for its corn, and One Earth Energy was born.
"It always made sense to me to have the vertical integration, be part of that consumption chain after it leaves the farmer and the storage point," said Kelly, noting that Alliance will supply One Earth Energy with corn.