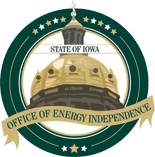 The State of Iowa is making a major investment to grow algae for biofuel at a southwest Iowa ethanol plant.
Fox News has details:
The 18-member Iowa Power Fund Board approved the $2,085,000 grant this week to assist in the commercialization of algae production technology.
The effort is a joint venture of four companies based in Nebraska, Tennessee, Rhode Island and Ireland.
Kevin Lynch, the chief executive of BioProcessAlgae, says the grant will fund an algae production project at an ethanol plant in Shenandoah, Iowa. The company will test its photobioreactor design there.
Officials expect that if the project is commercially viable, the money will be paid back. Now there's a REAL stimulus package.