Michigan is ramping up to be a leader in green jobs. Global Wind Systems, Inc. recently announced that it would build a full-scale wind turbine assembly plant in Novi, Michigan. Founded in September of 2008, Global Wind Systems will hire 250 people, most of whom had previously worked in come capacity in the failing auto industry. Interviews are scheduled to begin in May and to date, the company has received several thousand resumes.
Global Wind Systems will be the first wind manufacturer of delivery-ready, large-scale wind turbines in the state, but not the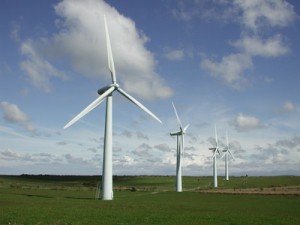 first company dedicated to producing wind turbines in Michigan. Mariah Power, a producer of wind turbines for homes and businesses, is hosting a grand opening event at its wind turbine manufacturing facility in Manistee, Michigan on April 20th.  The 74-ton turbines that will roll off the Global Wind Systems assembly line will be used by utility companies and wind farm developers for generating commercial wind power.
The Energy Revolution report released by Greenpeace anticipates that the transition to clean energy will create more than seven million net jobs by 2030. The state of Michigan is poised to attract many of these jobs through state incentive and tax programs as well as a new state mandate that requires Michigan utilities to generate at least 10 percent of the state's electricity from renewable sources by 2015.
Chris Long, founder and CEO for Global Wind Systems once built and designed plants for the auto industry. He told The Detroit News that production is expected to begin in the fall of 2009 and hopes the plant is running at full capacity by the following spring. Once the plant is running full steam, Long anticipates that they will turn out 400 turbines per year valued at more than $8 billion.