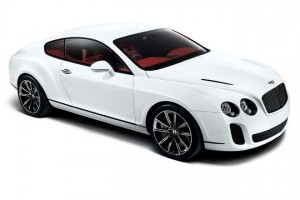 In 2010, an E85 Bentley will begin production in North America. The Continental GT will be introduced at the Geneva motor show as a production model. Its 630-hp turbocharged W12 will make it the fastest and most-powerful Bentley ever. The vehicle will exceed 200 mph.
The Supersports will be the first of Bentley's to be E85 compatible. "The changes to make the Supersports run on E85 should not be underestimated," said Uli Eichhorn, Bentley chief engineer. "As well as re-engineering the fuel system to cope with the corrosive ethanol, all the electronic subsystems had to be reprogrammed and revalidated."
The main change to the engine to increase power above 600 hp is extra boost from the twin turbos, whose airflow is eased by 10 percent larger intercoolers. Bentley quotes a 0-to-60-mph time of 3.7 seconds and 50 to 70 mph in 2.1 seconds.