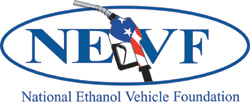 The National Ethanol Vehicle Coalition (NEVC) has formed the National Ethanol Vehicle Foundation (NEVF). This foundation was introduced to provide Americans with an opportunity to contribute to advancing the nation's use of renewable transportation fuels such as E85 and other high level blends of ethanol.
"The proceeds of funds contributed to the NEVF will solely be used to increase awareness of the benefits of using domestically produced ethanol as a form of alternative transportation fuel," noted NEVC Executive Director Phil Lampert. "The NEVF strongly supports ethanol produced from both agricultural feed stocks and cellulosic materials."
The NEVF's mission will be to continue to promote a domestically produced fuel that: Advances jobs for Americans; reduces greenhouse gas emissions; and promotes American energy independence.
To make a 100% tax deductible contribution to the NEVF, click here.